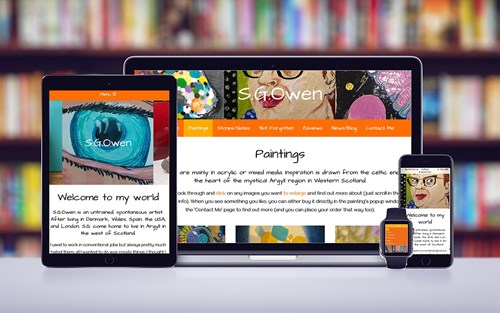 Argyll artist launches new dynamic website
Added at 08:35 on 22 August 2021
S.G.Owen, an untrained, spontaneous Scottish artist, has launched an exciting new website that showcases over 170 gorgeous pieces. A sumptuous collection of lush paintings, painted stones and painted slates can be viewed and bought direct from the artist via this website www.sgowen.scot
After living in Denmark, Wales, Spain, the USA, and London, S.G. came home to live in Argyll in the west of Scotland.
An 'outsider artist', S.G. started painting, drawing, and crocheting. When people asked to buy the art S.G. started believing that, as an untrained artist, living through art as well as for art could be a reality. Besides painting on canvas, S.G. also hunts for evocative rocks on the beach and paints those along with antique recycled Victorian slate. Main influencers are the flora and fauna of Scotland, travels, neurodiversity, feminism, the body, nature. the work of Kahlo, Rousseau, Hockney, Danny Gretscher, Billy Childish, John McKie and Beryl Cook.
S.G.Owen paintings and painted stones & slates have been on show in Dunoon (Burgh Hall; Fynewood) and Stoke Mandeville (Obsidian Art).
S.G.Owen art has been bought widely and displayed in gardens and on walls in Scotland, England, Wales, Ireland, Canada, the USA, Sweden, and Australia.
Have a look at SG's paintings here and stones & slates can be found here.